Current News
2017 Spring Appeal ~ Supporting IMS's Teacher Training Program
May 2017 – The focus of IMS's 2017 spring appeal is our new 2017–2021 Teacher Training Program, a major initiative in our efforts to foster a more diverse and inclusive community of retreat teachers and meditators.
Please join us in making this program a powerful force for compassionate change. We invite you to offer a one-time donation or pledge a monthly amount.
2018 Retreat for Mindfulness-Based Professionals
April 2017 – Registration is now open for the 2018 course, Mindfulness, Insight, Liberation: The Foundations of Mindfulness-Based Modalities and Research. This retreat is specifically for those teaching, training, researching or otherwise engaged in mindfulness-based approaches. It will be led by Christina Feldman, Chris Cullen, Jaya Karen Rudgard and Yuka Nakamura, and runs from January 11–18, 2018. Register now or find out more information.
2018 Forest Refuge Schedule ~ Applications Welcome
April 2017 – The 2018 schedule of teachers for the Forest Refuge is now available, and we welcome applications for personal retreats next year.
IMS's 2017-2021 Teacher Trainees
February 2017 - We're delighted to announce that the cohort of teacher trainees for IMS's 2017-2021 Teacher Training Program has now been finalized.
We extend a heartfelt welcome and much mudita (empathetic joy) to the following 20 participants who are embarking on this exciting journey toward becoming insight meditation retreat teachers – Andrea Castillo, Bruni Davila, Dawn Scott, Devin Berry, Devon Hase, Jeanne Corrigal, Jessica Morey, Jozen Gibson, Matthew Hepburn, nakawe cuebas, Neesha Patel, Nolitha Tsengiwe, Rachel Lewis, Roxanne Dault, Shelly Graf, Tara Mulay, Tuere Sala, Vance Pryor, Walt Opie and Yong Oh.
This group, comprising 75% people of color, will gather for their initial training session at our Retreat Center in August this year.
The program's core faculty is Joseph Goldstein, DaRa Williams, Kamala Masters, Rebecca Bradshaw, Bonnie Duran and Gil Fronsdal, with Carol Wilson and Guy Armstrong also contributing. Together with visiting teachers, including Sharon Salzberg and Ruth King, all will offer guidance over the course of the four-year training.
This program is a major IMS initiative, and the culmination of several years of discussion and planning. It represents a significant milestone in our efforts to foster a more diverse and inclusive community of retreat teachers and meditators. On completion in 2021, the training will result in a substantial increase in the number of people of color and white ally teachers and leaders, in turn benefiting the many insight meditation communities across North America.
Affirming Our Commitment
February 2017 – As the US and the world face significant challenges and upheaval, IMS affirms its commitment to providing a spiritual refuge, where everyone who comes to practice at our centers feels welcomed, honored and included.
We dedicate ourselves to the Buddha's teachings that hatred never ceases by hatred, but by love alone, and remain steadfast in upholding non-harming and nonviolence as the pillars of compassionate action.
Never has our meditation practice provided a more important foundation for wise engagement. We counter the destructive forces of greed, hatred and delusion by cultivating friendliness, joy, generosity and peace. These are boundless qualities that inspire our vision and deepen our resilience. They include all, and prompt action that can offer safety and protection for anyone whose race, skin color, ethnicity, gender, sexuality, ability, religion or immigration status puts them at risk.
May oppression and division, and all their causes, be dispelled. May the force of kindness and the power of our collective commitment to justice, inclusiveness and awakening serve all.
New Teacher Training Program
January 2017 – After some years of discussion and planning, IMS is set to begin a new Teacher Training Program in 2017, designed to train participants to become insight meditation retreat teachers. The majority of the trainees will be people of color.
The program's core faculty is Joseph Goldstein, DaRa Williams, Kamala Masters, Rebecca Bradshaw, Bonnie Duran and Gil Fronsdal, with Guy Armstrong and Carol Wilson also contributing to the curriculum development and program implementation. Together with other visiting teachers, including Sharon Salzberg, all will offer guidance over the course of the four-year training.
Both this program, and a separate one to be offered by Spirit Rock (led by Gina Sharpe, Larry Yang and Lila Kate Wheeler), reflect our shared visions of greater diversity, equity and inclusion in our sanghas. When the trainings end in 2021, they will result in a significant increase in the number of people of color teachers and leaders, in turn benefiting the many insight meditation communities across the country.
An invitation and application process is currently underway, with the first gathering of IMS trainees scheduled for August 2017 at our Retreat Center.

IMS Teacher Training Program core faculty, (L-R): Joseph Goldstein, DaRa Williams, Kamala Masters, Rebecca Bradshaw, Bonnie Duran and Gil Fronsdal
Fellowships for Health Care Professionals, Educators and Artists
December 2016 – Thanks to generous funding from the Hemera Foundation, a limited number of fellowships are available for Educators, Health Care Professionals and Artists interested in participating in a 2017 Retreat Center course. The fellowships are specifically for those who have never attended a residential meditation retreat of more than two nights, at IMS or elsewhere.
See more information.
Reserving Retreat Spaces for People of Color
October 2016 – Starting with our 2017 Retreat Center courses, IMS is now reserving a portion of all spaces for people of color. This is part of our efforts toward greater diversity and inclusion.
Holding these slots applies not only to our regular retreats, but also to any course where a lottery will be conducted.
These spaces will be reserved only until a certain time before courses begin. For retreats lasting seven days or less, any unused places we've held for people of color will be released two months prior to the start date. For retreats longer than seven days, unused reserved spaces will be released four months prior.
If you are a person of color, we encourage you to apply for a retreat, even if our website says a course is full – these reserved slots may still be available. And so we can support your participation in the retreat of your choice, please fill out the people of color affiliation section of the registration form.
We are also holding these spaces at the Forest Refuge. Please note, however, that availability there is more limited for 2017, but will open up in 2018. For more info about a personal retreat at this center, please contact fr@dharma.org or call 978-355-2063.
We hope you can help spread the word about this initiative.
Registration for 2017 Retreat Center Courses Now Open
September 2016 – The full schedule of 2017 courses at the Retreat Center is now available. Some retreats run for a weekend; others last up to three months. Most are suitable for both new and experienced meditators. Our 2017 schedule includes themed and identity retreats for mindfulness professionals, women, people of color, teens, 18-32 year olds, and our LGBTQI gender-queer community.
Our 2017 Retreat Schedules leaflet for both of our centers is now in the mail. If you would like to receive a copy and are not on our mailing list, consider signing up.
Funding for People of Color and 18-32 Year Olds for Longer-Term Practice in 2017
September 2016 – Thanks to generous donations, funding is again available to support a number of experienced people of color meditators and young adults (18-32 year olds) who wish to undertake longer-term practice at IMS in 2017. This is in addition to our ongoing program of financial assistance, which annually supports about a third of our retreatants.
This opportunity forms part of our broader vision to develop more leaders of color within our North American insight community, and to ensure leadership among the next generation of yogis.
For people of color who are unable to afford IMS's usual fees, we are offering a reduced rate to participate in Part 1 or Part 2 of the 2017 Three-Month Retreat. A reduced rate is also available for one month of personal retreat next year at our Forest Refuge.
For young adults (18-32 year olds) who are unable to afford IMS's usual fees, we are offering a similar reduced rate to participate in Part 1 or Part 2 of next year's Three-Month Retreat.
Fees are on a You Choose basis. This means you can establish the rate you are able to pay, at or above $20 per night. (If paying more than $20 per night is possible, it will allow additional yogis to receive support.)
Prior retreat experience is required. For Part 1 and Part 2 of the Three-Month Retreat, the prerequisite is two courses of a week or more with a recognized insight meditation teacher.
At the Forest Refuge, it's recommended that applicants have participated in at least one six-week structured and teacher-led insight meditation retreat, or six similar one-week retreats.
Since our funds are limited, we will be awarding spaces on a first-come, first-served basis. We encourage those interested to apply as soon as possible. Here's what to do:
For Part 1 or Part 2 of the Three-Month Retreat, contact our Registration department as soon as possible to request the You Choose rate. You can email registration@dharma.org or call 978-355-4378 ext. 170. A link will then be sent to you to an online registration form that will include questions regarding your application for this fee, as well as other questions related to this particular retreat. Please note that a deposit of $150 will be necessary to secure a space.
For the Forest Refuge, email fr@dharma.org or call 978-355-2063 to indicate interest in applying, as a person of color, for a period of retreat during 2017 at this You Choose rate.

Teacher Training Program Update
August 2016 from the IMS Board – As many of you know, IMS has been engaged in a collaborative planning process with Spirit Rock and teachers Gina Sharpe, Larry Yang and Lila Kate Wheeler to design and implement a teacher training program focused on training people of color. This planning process began several years ago.
At our July board meeting, it was with great sadness that we decided, by a unanimous vote, not to accept the most recent proposal from Gina, Larry and Lila, which we understood was non-negotiable. We also decided by a near-unanimous vote not to continue our participation in this process by attempting to negotiate another arrangement. We remain committed to training more people of color to be teachers at IMS and elsewhere, and to continue all the other work necessary to make IMS a truly anti-racist institution.
This was a difficult decision. Many of us have taught with or been taught by Gina and Larry, and we deeply respect them for the years of leadership and teaching they have provided. All of us had great hopes for this program, and we believe everyone involved attempted to work collaboratively. However, the process has been fraught with difficulties and continues to result in frustration, misunderstanding and suffering on all sides. We found this to be unsustainable.
Again, we are committed to offering a training program for teachers of color, but the specifics are not yet clear. We'll be exploring the wisest next steps and will communicate our plans as they take shape.
For those who are interested in further details of IMS's decision, we hope to provide more information by mid-September. This time frame is based on Spirit Rock's leadership needing to decide their own course of action relative to the proposed program, their sharing of that decision with Gina, Larry, Lila and IMS, and all of us then discussing how best to communicate this information more widely.
We thank you for your patience.
This report outlines more about IMS's overall diversity work and aspirations.
Fellowships for Health Care Professionals
February 2016 – Thanks to a generous grant from the Hemera Foundation, a limited number of fellowships are available for Health Care Professionals interested in participating in a 2016 Retreat Center course.
These fellowships are open to anyone who has never attended a residential meditation retreat of more than two nights, whether at IMS or elsewhere, and who is employed full-time in a health care field, working primarily with patients/clients or overseeing other healthcare professionals, or who is a full-time medical student.
If you meet these qualifications, you are eligible for full coverage of your course fee. If you know others who might be interested, please spread the word.
See more information.
The Next Phase of Our Diversity Work
February 2016 – From Executive Director Linda Spink: Last summer, we announced that teachers Gina Sharpe and Larry Yang (and subsequently Lila Kate Wheeler) would be the core faculty for a joint IMS/Spirit Rock teacher training program, scheduled to start in January 2017 for a diverse and multicultural group of trainees.
For well over a decade, Gina and Larry have been at the forefront of efforts across the US insight community to co-create retreats and sangha for people of color. As well as mentoring hundreds of students, they have provided vital leadership to IMS, challenging us to understand what it takes to offer a fully welcoming, diverse and inclusive refuge.
In October, Gina, Larry and Lila withdrew as lead teachers from the teacher training program. Their key message was that IMS and Spirit Rock still have much work to do, on an organizational level, before such a program, as envisioned by them, can succeed.
Their feedback has been a call to action: if our aspirations for training and supporting more people of color as teachers and leaders in our centers and communities are to be realized, aspects of IMS's predominantly white culture, as expressed through its organizational norms and structure, must be addressed.
Although no one yet knows how a future diverse and multicultural teacher training program might look, we remain fully committed to exploring possibilities, and are in dialogue about these with Gina, Larry, Spirit Rock and others.
Since 2008, IMS has been working to better understand racism and white privilege in the US, and the impact of the dominant white culture at our Retreat Center and Forest Refuge. It's my hope that this foundation will aid us as we examine and prepare for some organizational shifts.
I realize that changing cultural systems and practices takes a lot of sincere, dedicated energy and time. But my commitment is strong, both personally and professionally, to seeing this endeavor through. Bringing more diversity, equity and inclusion into IMS's leadership and teaching faculty, as well as into the broader insight community, is essential. Only in this way will the Dharma be truly served.
Increasing POC Leadership in Our Sanghas
July 2015 – As leaders in Western Vipassana, IMS and Spirit Rock Meditation Center have undertaken various initiatives over recent years to support inclusivity and diversity in Western Buddhism, so that we can better serve our multicultural world.

Together, our two organizations have come to realize that in order to significantly increase the multicultural diversity of our community of meditators, the teaching body must reflect the multiplicity of these life experiences.

So we are very pleased to announce that teachers Gina Sharpe and Larry Yang will be the lead teachers for the next joint IMS/Spirit Rock teacher training program, to start in January 2017. Given the urgent need for diversity in our teacher body, our goal for the 2017 teacher training program is to significantly increase participation from many diverse communities.

During the four-year program, Gina and Larry, joined by founding and senior teachers from both centers, will instruct and mentor these trainee teachers, as they join our 100+ graduates of previous teacher trainings in offering the Dharma at our centers and beyond, into the future. We are hopeful that this program will also be connected with other insight meditation centers. It is envisioned that this initiative will spark movement toward increasingly diverse training programs.

As with all previous joint IMS/Spirit Rock teacher training programs, participation is by invitation only. An IMS/Spirit Rock Selection Committee will carefully review all nominations from teachers, and then issue a limited number of invitations to individuals to apply for this program. We hope to meet an estimated program size of 20.

More information will be made available as we move forward with excitement toward the 2017 launch.
Reflecting on the Charleston Tragedy
June 2015 – We are profoundly saddened by the tragedy at Emanuel African Methodist Episcopal Church in Charleston, SC, and offer our sympathy and metta to all individuals, families and communities affected in any way.
After much reflection throughout our organization, we at IMS see this heartbreak as more than the result of one deeply-disturbed individual with easy access to guns, acting on his delusion and killing nine people.
While these facts are true, putting the event into its historic context is just as important. This is the latest attack in this country by white men on black churches.
Many of us remember the 1963 Ku Klux Klan bombing of the 16th Street Baptist Church in Birmingham, AL, that killed four girls. Yet, acts of violence against black communities in their places of worship go back hundreds of years. We are reminded that this happens not only in the South, but in many places across the nation. It includes the 2008 burning by white men of the predominately black Macedonia Church of God in Christ, in nearby Springfield, MA, following the election of President Obama.
This Charleston attack, coming on the heels of the recent killings of unarmed black people by police, is a clear call for continued dedication to undoing racism in the US. May our commitment here at IMS to undo racism and the causes of racism only grow stronger. May our voices join those bringing greater visibility to what needs to change. And may we nurture wisdom and compassion so that, together, we can uproot the greed, hatred and delusion in our world.
New Books from Our Teachers
April 2014 – IMS co-founder Sharon Salzberg's newest book, Real Happiness at Work: Meditations for Accomplishment, Achievement, and Peace, takes a clear look at the challenges that are an inevitable part of our job life, and offers "an array of tools for cultivating greater stability, openness and fulfillment while working."
The book is filled with people's stories from their widely-varied job experiences. Sharon gives us meditations and exercises to help us develop what she calls the eight pillars of happiness in the workplace: balance, concentration, compassion, resilience, communication and connection, integrity, meaning, and open awareness.
IMS guiding teacher Rodney Smith, founder of Seattle Insight Meditation Society also has a new book out. Awakening: A Paradigm Shift of the Heart starts with the observation, "Many of us do not understand what spiritual transformation requires." Rodney describes the book's territory:
This book attempts to explain genuine spiritual realization. When we speak of enlightenment and awakening, what do we mean? What actually occurs when we slip beyond consensus or conventional reality, and why would we undertake such a journey? This book looks at the topography of the journey from beginning to end, the multiple ways we undermine the very growth we seek, the shift in consciousness that does occur, and the life that arises out of that shift.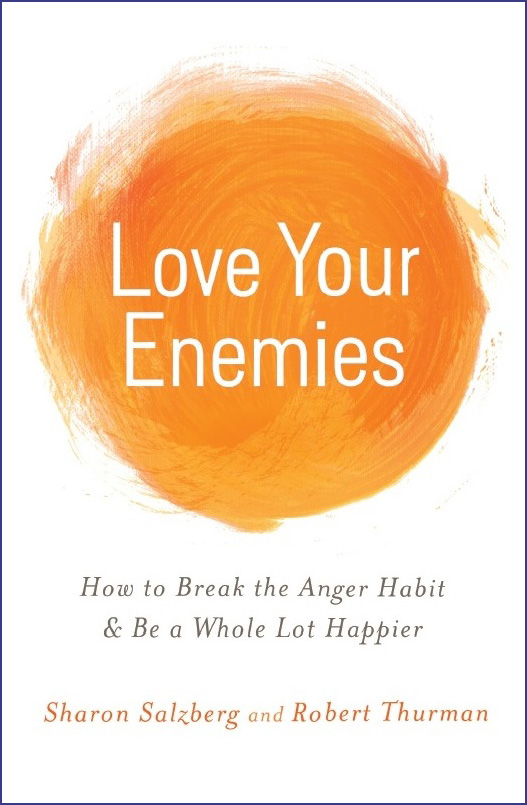 November 2013 – Books by three IMS teachers were published this fall. First out was Love Your Enemies: How To Break the Anger Habit & Be a Whole Lot Happier, by IMS co-founder and guiding teacher Sharon Salzberg and long-time dharma teacher Robert Thurman. In this book, the authors lead readers on a journey through four kinds of enemies we can encounter in life.
Here is Sharon's description of these four, from the introduction:
"Outer enemies are the people who harass or annoy us, as well as life situations that frustrate or confound us. Inner enemies are the habits of our reactive mind - particularly anger and hatred - that enslave us to and play havoc with our lives. Deeper still we find our secret enemy, the self-absorption that cuts us off from others and from our own loving nature. And finally, there is the super-secret enemy, the deeply entrenched sense of self-loathing that keeps us from realizing our kinship with all beings. The teachings and meditations in this book help us to draw on our own innate wisdom and compassion in order to transform our relationship with our enemies, both inner and outer."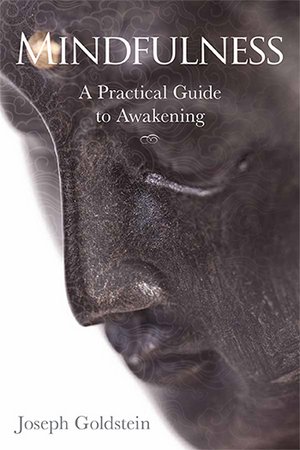 Next to appear was IMS co-founder and guiding teacher Joseph Goldstein's new book, Mindfulness: A Practical Guide to Awakening. From the jacket: "With Mindfulness, Joseph Goldstein shares the wisdom of his four decades of teaching and practice in a book that will serve as a lifelong companion for anyone committed to mindful living and the realization of inner freedom."
Also available now is a three-CD set, Mindfulness: Six Guided Practices for Awakening, has essential mindfulness meditations that complement the teachings in the book.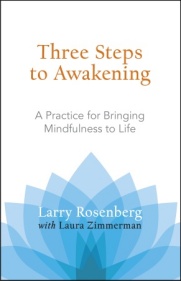 The most recent book to appear was Three Steps to Awakening: A Practice for Bringing Mindfulness to Life, by IMS core teacher Larry Rosenberg, founding teacher of Cambridge Insight Meditation Center, with Laura Zimmerman. "Drawing on the various Buddhist traditions in which he has practiced, [Larry] describes three subtly different but complementary forms of meditation practice: (1) breath awareness, (2) breath as anchor, and (3) choiceless awareness. Having the three methods in one's repertoire gives one meditation resources for any life situation…. After teaching the three-step method, Larry goes on to show how to bring the awareness gained in meditation to the world off the cushion, into relationships and into all areas of daily life." (From the Shambhala Publications website)
Check our Reading List for more books by IMS teachers.
Three-Month Retreatants Settle into Newly Named Dormitories
September 2013 – On Tuesday, September 10 we welcomed participants to this year's historic Three-Month Retreat. For the first time in IMS's history, approximately a third of the course participants are people of color, thanks to a generous grant from the Frederick P. Lenz Foundation For American Buddhism. The first full day of the retreat, Wednesday, September 11, coincided with a ceremony to honor the completion of IMS's construction project. At the ceremony, Executive Director Linda Spink announced new names for all dormitories, recently approved by IMS's Board:
The new dormitory is named Bodhi House. Bodhi in Sanskrit means 'awakened.'
The Catskills is now named Karuna House. Karuna in Pali and Sanskrit means 'compassion.'
The Annex is now named Shanti House. Shanti in Sanskrit means 'peace.'
By adding the word 'House' after each name, accommodation buildings are differentiated from other Retreat Center facilities.


This panorama shows the new Retreat Center dormitory, Bodhi House (L), the enclosed walkway connecting it to both Shanti House (formerly the Annex, at rear) and the new stair tower at the end of Karuna House (formerly the Catskills, R).
Single Rooms for All is Now a Reality
June 2013 – With the start of this year's People of Color Retreat on Saturday, June 15, the new Retreat Center dormitory welcomed its first occupants. Our vision to offer single rooms for all retreatants at both our centers is finally a reality.
The Catskills dormitory is now closed as extensive renovations are underway. On completion, planned for early September, all its accommodations will also be singles. For the latest project photos and updates, visit our construction news page.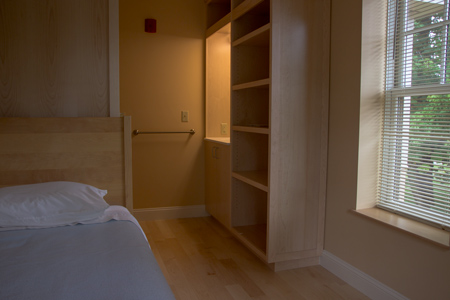 A single room in the new dormitory.
The Forest Refuge Celebrates its 10th Anniversary
May 2013 – Friday, May 10, 2013 marked the 10th Anniversary of the Forest Refuge, IMS's center for personal, longer-term retreat practice. Since the facility opened in May, 2003 over 1,500 retreatants sat more than 3,200 retreats for a total of over 84,000 days of practice.
The anniversary celebration, led by lay and monastic teachers, was attended by about 70 friends of IMS including teachers, staff, retreatants and volunteers.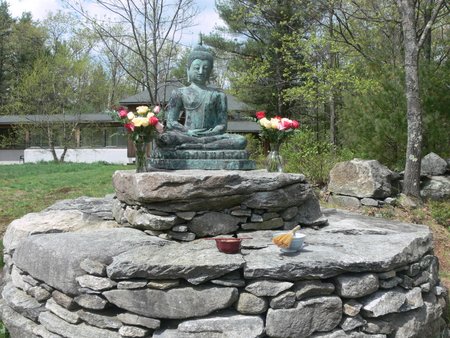 Participants gathered around the Forest Refuge meadow Buddha for the ceremony. Flowers, incense and water were set out in preparation for the blessing.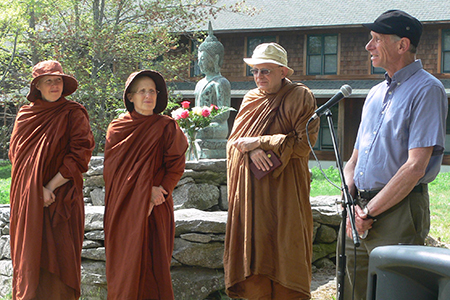 Monastics (L-R) Ayya Nimmala Bhikkhuni, Ayya Medhanandi Bhikkhuni and Ajahn Punnadhammo listened to Joseph Goldstein describe the original vision of a longer-term retreat center for IMS.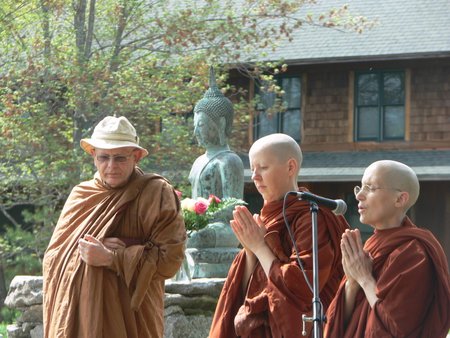 The monastics chanted the three refuges and blessings.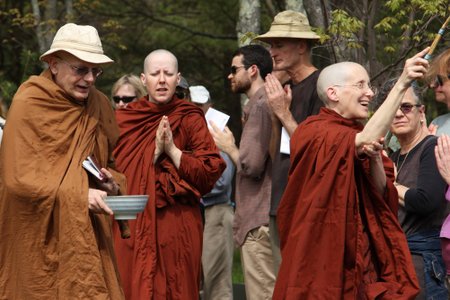 The monastics blessed the participants by chanting and sprinklings of water.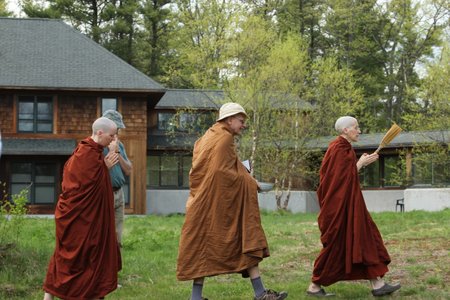 The monastics led the group in a circumambulation of the meditation hall.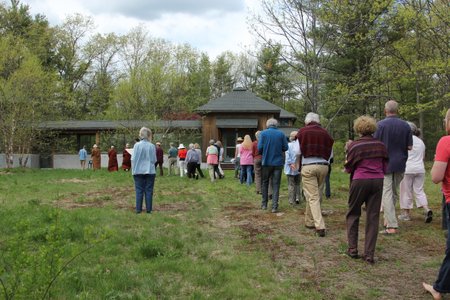 The circumambulation.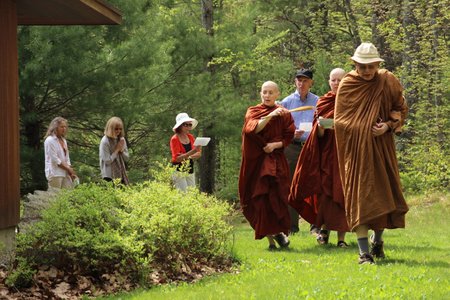 Coming around the meditation hall and heading towards the Buddha.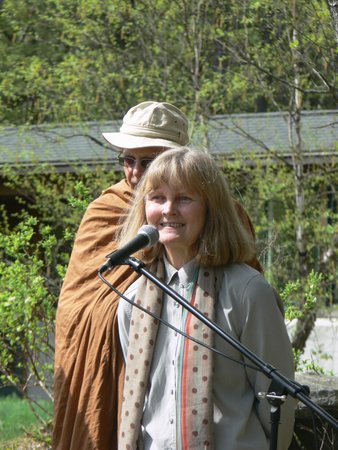 Near the end of the ceremony, Resident Teacher Sky Dawson led us in a guided metta meditation.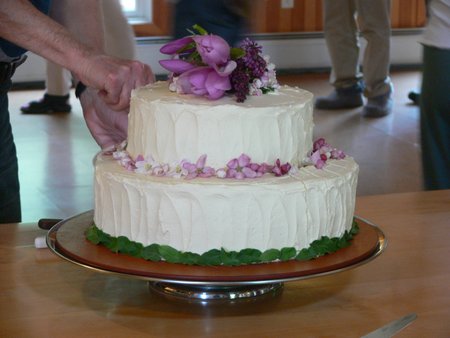 A beautifully decorated cake was served in the Forest Refuge dining room!
Deepen tranquility, wisdom and compassion