Ratatouille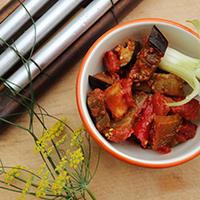 Ingredients
1 TBS olive or vegetable oil
½ pound onions – cut in wedges
1 TBS garlic – minced
1 pound eggplant – cubed
1 pound zucchini – cubed
1 pound red bell pepper – cut in 11/2 inch strips (can use green also)
25 ounces canned or fresh diced tomatoes with juice
1 tsp salt
1 tsp black pepper
⅜ teaspoon dried basil
⅜ teaspoon dried oregano
¼ cup tomato sauce
Preparation
Preheat oven to 400 degrees F.
Roast eggplant, zucchini and peppers on separate sheet pans with olive oil, salt and pepper. Check vegetables in 20 minutes and every 10 minutes thereafter until done. When done, turn oven down to 375 degrees F.
While vegetables are roasting, heat the oil in a wok. Add the onion and garlic, and cook until soft and translucent.
Put all the cooked vegetables and the onions and garlic into a deep roasting pan along with all the other ingredients.
Bake at 375 degrees F, covered, checking occasionally. When done, the vegetables will be completely soft and the sauce runny but a little thick. If getting dry, add a little water; if too much water remove cover.
Check for seasoning before serving.
Deepen tranquility, wisdom and compassion